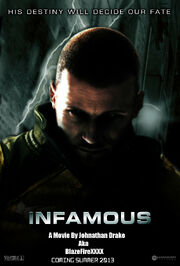 inFAMOUS the Movie is a planned movie directed by Steven Maxwell (my friend) and produced by Johnathan Nathan Drake (Me). inFAMOUS is planned to be released somewhere between Early and Mid Summer of 2013. This movie is the most anticipated movie since Uncharted: The World of Treasures back in 2012.
In the film, Cole McGrath (Voiced by Johnathan Drake), a bike messenger is caught in the center of an explosion that devastates several city blocks of the fictional Empire City (the fictional version of New York). The explosion sends the city into catastrophic ways, while Cole, finds out that he has Conduit electricity-based powers.
The movie is set in New York (which Empire City was based out of) surrounded by three islands. The Neon District, contains many buildings and businesses. The Warren District, where goods are imported and exported, and the Historic District. At the beginning of the film, six blocks of the Historic District are destroyed by from a bio-electrical device called the Ray Sphere.