Kris Torres
, better known as
Jikan
is a 20 year old conduit, and the main character of
The Conduits, Second Wave
.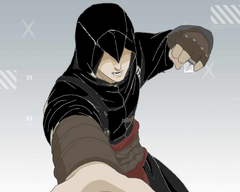 Appearance
Edit
He has very short, spiky, dark brown hair. He is about 6'0 tall, and he sometimes wears either a black or yellow assassin's robe, or a plain yellow t-shirt with black jeans.
Personality
Edit
He is very serious, he's easily angered and is not one to give-up, ever.
His powers are of time and space. He can stop, speed up, or slow down time, he can even affect time in just a designated area for a short amount of time. He can teleport and fire a blast that causes ripples in space and damages enemies.